Kathmandu. Life insurers have felt some relief as the surrender rate of life insurance has declined in Baisakh compared to Chaitra of current fiscal year 78/79.
Compared to last Chaitra, the number of policy surrenders has decreased by 23.81 percent in Baisakh. A total of 7,712 insurance policies were surrendered in the last Chaitra, while 5,876 insurance policies were surrendered in Baisakh.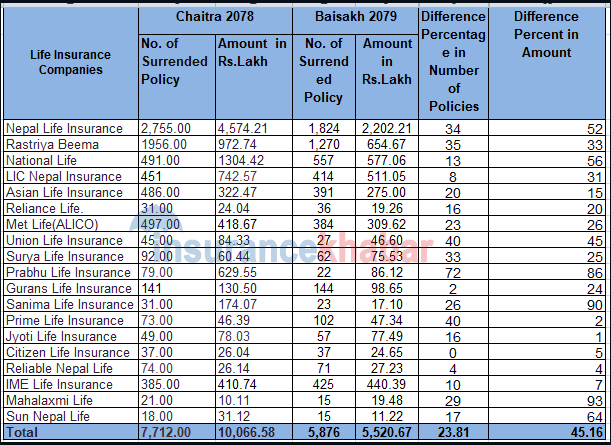 In terms of amount, surrender value paid has declined by 45.16 percent. According to the Insurance Board, 19 life insurance companies have to paid Rs 1.66 billion to the insured last Baisakh against policy Surrender.
Nepal Life Insurance(NLIC) is on the top of the chart both in terms of numbers of the policies surrendered and surrender value paid.
One thousand eight hundred twenty four policies were surrendered by the Policyholder's of NLIC. NLIC has paid Rs.22 Crore 2 Lakh 21 Thousand against surrender value to it's policyholders.
Mahalaxmi Life Insurance and Sun Nepal Life have the lowest number of policy surrender. Both of these companies have only 15 policy surrendered in the month of Baisakh.
According to the Board, during last fiscal year 2077/78,  65,313 insurance policies were surrendered while the insured had to pay Rs.9.88 billion to their policyholders.