Kathmandu: The ongoing liquidity crunch and slow economic growth has made adverse impact on the Life insurance business. The business of life insurance companies has decreased by 24 percent in Baisakh compared to Chaitra.
The business growth of all 19 life insurance companies has been negative in the month of Baishakh. The companies that earned Rs 10.34 billion in Chaitra have collected only Rs. 7.86 billion in Baisakh. The lack of liquidity in the banking system and the impact of the economic downturn have started to be felt in the stock market as well. Meeting the third quarter target in Chaitra end may have seen some more business. But insurance companies are targeting employees and agents every month.
Life insurance companies had collected Rs. 3.10 billion in premiums in Chaitra alone, but only Rs 2.25 billion in Baisakh. Similarly, the revenue earned from renewal insurance premium was Rs 7.24 billion last Chaitra, but only Rs 5.60 billion in Baisakh.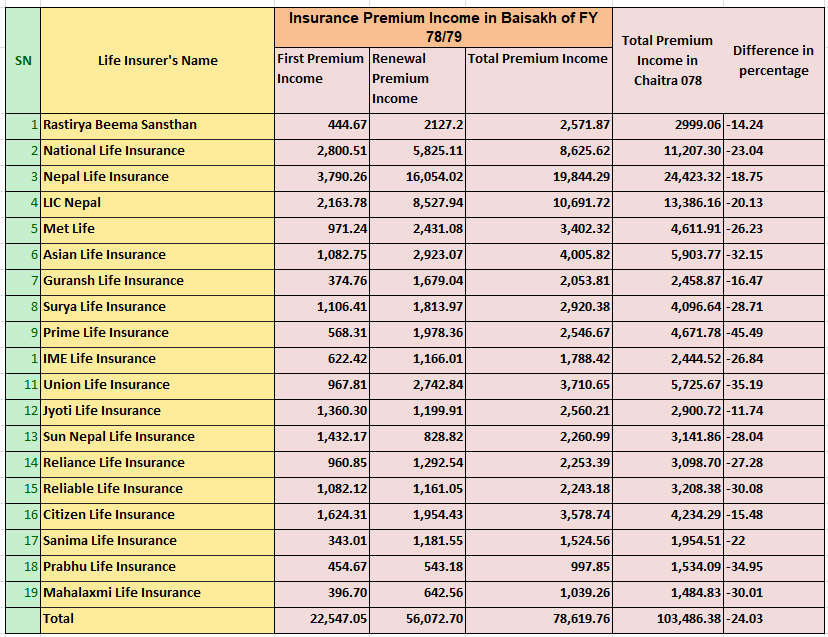 Prime Life's business has declined the most in the month of Baishakh. In a one-month period, Prime's life insurance premium income has declined by 45 percent to Rs. 254.6 million.
Nepal Life's insurance premium has declined by 18 percent to Rs 1.98 billion in Baishakh. LIC Nepal, which had earned Rs 1.33 billion in insurance premiums last Chaitra, has earned only Rs 1.06 billion in Baisakh.