Kathmandu: Chief Executive Officer of Sanima General Insurance Company(SGI), Sudhumna Upadhyaya had drawn Rs. 3.456 million as salary for the last fiscal year 2077/78. He had received an annual package including salary, allowance and other benefits of Rs. 48,059,904.
The financial report of SGI, he had received Rs. 11 lakh three thousand against performance based allowances. Apart from this, the company has paid him a premium of Rs. 300,000 for life insurance. Upadhyaya has been in charge of the Chief Executive Officer since 2071 BS.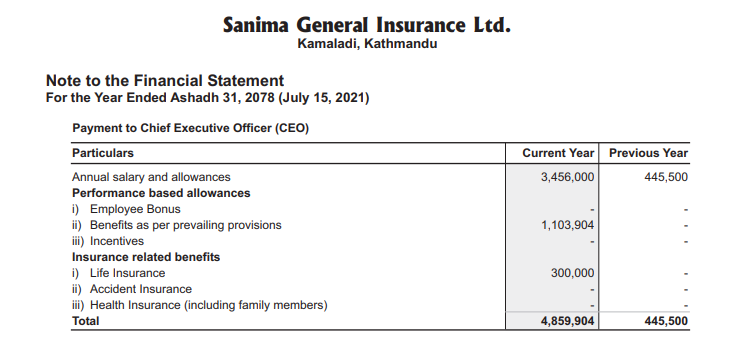 Apart from Upadhyaya, the employees at the top management level had received salary allowance of Rs. 12.3 million and other benefits. Rs. 73.52 million had been paid to the employees from the profit of the same fiscal year.
The promoters of the company have received Rs. 410,000 as meeting allowances. Officials of other committees,sub-committees have also been paid Rs. 210,000 for meeting allowance.