Kathmandu:Life insurance companies have earned Rs. 38.18 billion in total insurance premiums income(TPI) the first three months of the current fiscal year 2078/79. Life insurance companies had earned Rs.32.28 billion in the same period last fiscal year 2077/78. Life Insurance companies have managed to expand their market by 18.28 percent compared to the same period last year.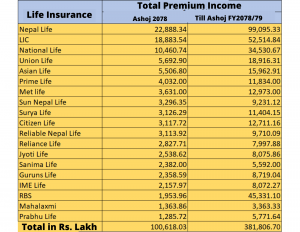 During this period, Nepal Life Insurance alone has earned Rs 9.90 billion.  It has earned Rs. 2.28 billion in Ashoj. Similarly, the second highest insurance premium collected by Life Insurance Corporation Nepal.The company has collected Rs. 5.25 billion in three months while the premium income of Ashoj is Rs. 1.88 billion. At the third position National has earned Rs. 3.45 billion.
Similarly, Union Life Insurance at fourth place, earned TPI Rs.1.89 billion in premiums in the first quarter while it's TPI of Ashoj was Rs.569.29 million.
Asian Life Insurance has earned Rs.550.6 million in Ashoj alone.Its TPI during first quarter of the current FY is Rs.1.59 billion.