Kathmandu: The Deposit and Credit Guarantee Fund(DCGF)'s investment reaches around Rs. 8 billion in fixed deposits(FD) during the first three and a half months of the current fiscal year 2078/79.
According to the information regarding FD investment published by the DCGF, the investment of FD is Rs.78.79 billion as of October 28, 2021. The fund has also invited bids to invest (deposit) Rs.350 million for October 24 and Rs. 500 million for October 28.
The fund has invested the highest amount of Rs. 4.47 billion in FD in Sawan(mid July to mid August) of current FY . Similarly, it has invested Rs 1.20 billion in Bhadra(mid August to mid September) and Rs 1.40 billion in Ashoj(mid September to mid October).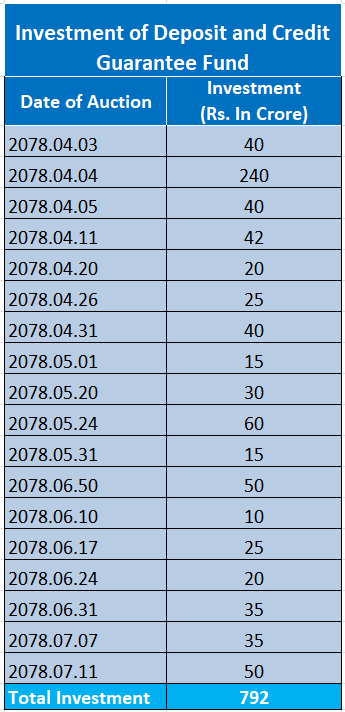 The fund has been investing as FD in 'A' class commercial banks only. It collects tariff from BFIs against guaranteeing deposit and credit security. The fund has guaranteed the security of deposits of up to Rs. 300,000 in BFIs recognized by the Central Bank, Nepal Rastra Bank. If the bank goes bankrupt due to the financial crisis, the compensation up to Rs 300,000 will be provided to the depositors of the concerned bank.
The fund has been providing security of savings made by the public in BFIs and security guarantee of small and medium level credit investments made by the BFIs.