Kathmandu: The first premium income(FPI) of three life insurance companies has declined in the first two months of the current fiscal year 2077-78 compared to the same period of the previous fiscal year. The FPI  of Union Life Insurance(ULI), Nepal Life Insurance(NLIC), and Asian Life Insurance(ALIC) have declined by 21.28, 14.49, and 10.71 percent respectively.
During the comparison period, the overall premium income of the life insurance industry has increased by 27 percent.
During the period of two months (Sawan and Bhadra), 19 life insurance companies have earned the FPI of Rs. 6.38 billion. It was Rs. 5 billion in the same period of last FY.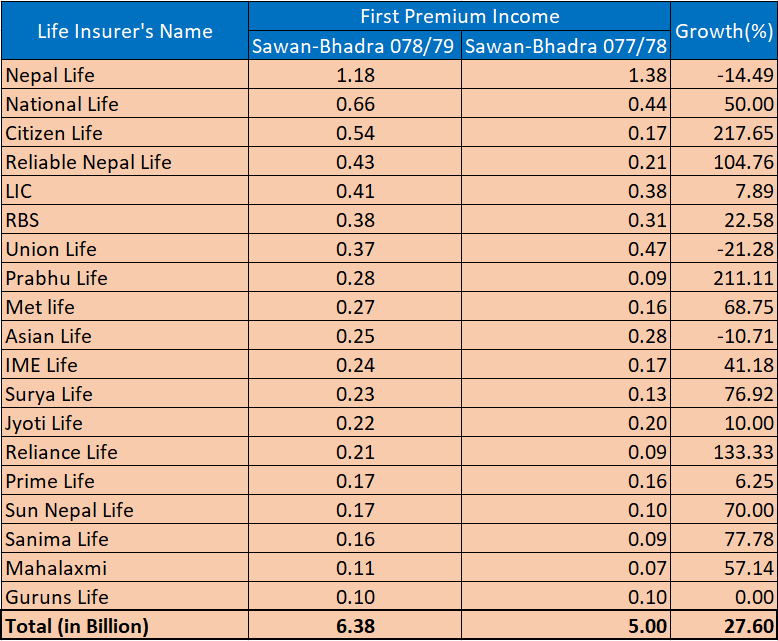 Nepal Life Insurance and Union Life Insurance have witnessed a downward in FPI growth. The marketing of these two companies, which have been aggressively growing business in the last FY, looks a bit weak in the current FY 2078/79. Last FY, Nepal Life, and Union Life stood first and second respectively in terms of FPI. During the current FY through Nepal Life retained its first position in FPI, the Union Life has tumbled to 7th position. Though the comparison of the first two months won't give a complete picture, yet it is clear that these companies are losing market share.
Citizen Life Insurance(CLI) has achieved the highest growth of 217.65 percent in FPI. It has earned Rs. 540 million FPI in the first two months of the current FY. In terms of growth rate, Prabhu Life is in second place with 211 percent. But the company has earned only Rs. 280 million in insurance premiums.
In terms of amount, Nepal Life has the highest FPI of Rs. 1.18 billion during the same period. It was Rs. 1.38 billion in the same period last FY. In terms of the amount of FPI, National Life is in second place with Rs. 660 million with a 50 percent growth rate. Reliance Life has also increased by 133 percent. The amount is only Rs. 210 million.