Kathmandu: IME General Insurance Company has received a 'ICRNP IR Triple B' rating for the right share issue. According to the rating agency ICRA Nepal (ICRA NP),the rating indicates a moderate degree of safety regarding the timely servicing of financial obligations.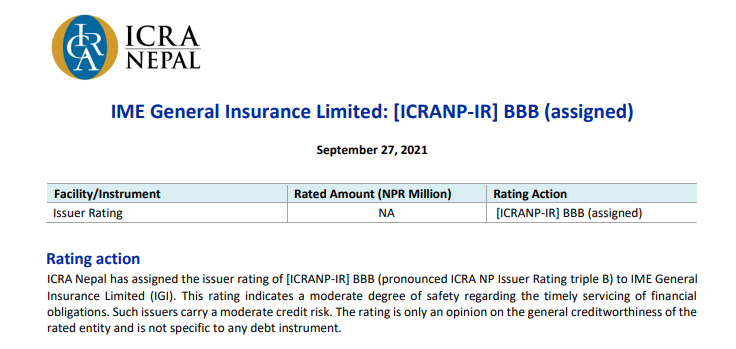 The company's promoters shareholder is strong and has received a good rating due to significant improvement in business growth. The promoter to public shareholders ratio of the company is 51:49 percent. Hemraj Dhakal has the largest share of 10.15 per cent, Chandra Dhakal has 9.74 per cent, Nepal Bangladesh Bank has 9.50 percent, Usha Investment has 9.19 per cent, Hathway Investment has 5 per cent and Kumar Poudel has 4.24 per cent investment as promoters.
The growth rate of insurance premiums for insurance companies has been shrinking recently but the rate of claim payment has been increasing, according to the rating agency.
IME General has applied to the Nepal Securities Board for the issuance of 40 percent of its shares. Currently, the company's paid-up capital is Rs. 1.15 billion. The company's paid-up capital will reach Rs. 1.62 billion after the right share issue.