Kathmandu: Life and non-life insurance companies have allocated Rs. 1.16 billion for bonus to the employees.
The bonus amount has been allocated from the last fiscal year's (2077/78) profit. In the last FY, the employees of non-life insurance companies will get more bonus amount than life insurance companies. Life insurance companies have allocated a bonus of Rs.435.4 million for their employees, while non-life insurance companies have set aside Rs. 727.4 million for bonus.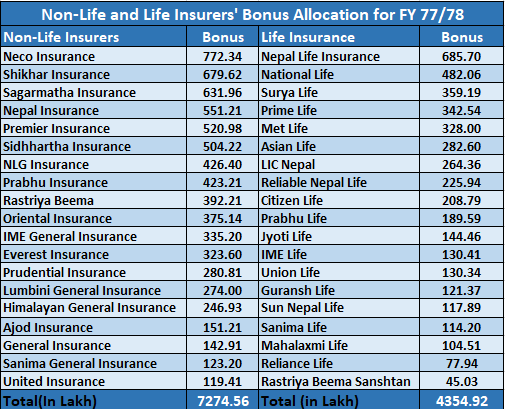 Real profits are known only after the actual assessment of life insurance companies. Therefore, the amount provided in the unaudited financial statement may be slightly higher after the actuarial valuation. According to the Bonus Act, insurance companies must distribute at least 10 percent of profits to employees. But insurance companies do not get the amount immediately as there is no general meeting on time. If not distributed immediately, such amount has to be set aside.
The old companies pay some of the bonus in advance but distribute the rest only after the general meeting. But new companies do not pay in advance. As an incentive to the employees, the companies have to pay bonus amount from the profits. Employees of non-life insurance companies receive the matured bonus amount earlier than life. But in the case of life insurance companies, it has been too late. Life insurance companies still have not been able to hold their AGM for last two FY.