Kathmandu: In the first two months of the current fiscal year, 19 life insurance companies have earned Rs.28.15 billion total premiums. The premium income of life insurance companies has decreased by Rs. 5.5 billion in Bhadra (mid September to midAugust) compared to Sawan(mid July to mid September).
The companies have earned Rs.11.55 billion in Bhadra while it was Rs. 16.60 billion in Sawan alone.
In the first two months of the current FY, Nepal Life has earned the highest total insurance premium of Rs. 7.62 billion. In Bhadra alone, it has earned Rs 2.87 billion in insurance premiums. Rastriya Bima Sansthan has collected Rs. 4.34 billion in two months due to the life insurance premium of civil servants. But in Bhadra alone, the corporation's premium income is only Rs. 600 million.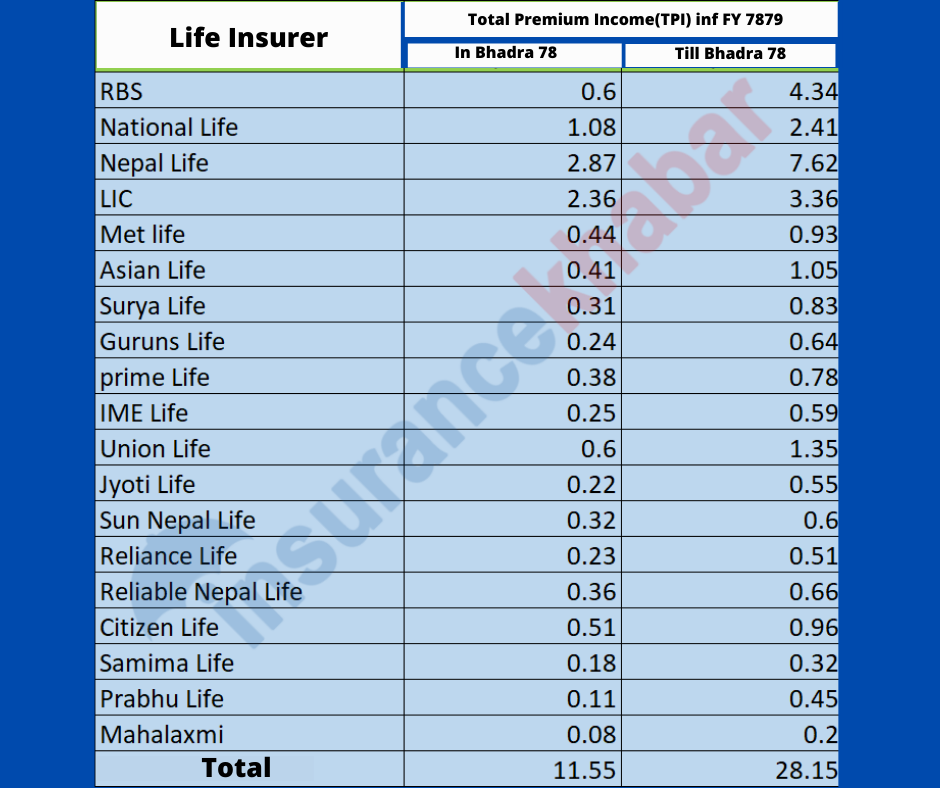 Life Insurance Corporation Nepal has earned Rs.2.36 billion in total premiums during Bhadra alone, and Rs. 3.36 billion in the first two months. National Life has earned Rs. 2.41 billion in insurance premiums while Union Life ranks fifth in terms of insurance premium income. Union Life has earned Rs.1.35 billion in insurance premiums in two months Asian Life Insurance has earned total premium Rs. 1.05 billion. It has collected Rs.410 million in Bhadra alone.
Companies with TPI below 1 billion:
The total premium income of Citizen Life Rs.960 million, Met Life(American Life Insurance) Rs. 930 million, Surya Life Rs.830 million, Prime Life Rs.780 million.
Reliable Nepal Life Rs.660 million, Guransh Life Rs.640 million, Sun Nepal Life Rs.600 million, IME Life respectively.Rs.590 million in total premium. While Jyoti Life 550 million, Reliance Life 510 million, Prabhu Life Rs.450 million, Sanima Life Rs.320 million and Mahalakshmi Life Rs.200 million in total premium income.