Kathmandu: The Insurance Board has written to the insurance companies for unpaid claims. Chairman Surya Prasad Silwal informed that a letter has been sent to the companies to pay the pending claims immediately. "We are waiting for the company's response," he said.  If their response is not satisfactory and the claim is not paid, we will take legal action. '
Life insurance companies do not have much issue with pending claim settlement, but the pending claims are pilling up in non-life insurance companies.During nationwide interaction with the public, most of them complained that the insurance companies did not pay their claims on time.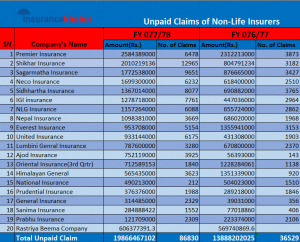 From the local people's representatives to the general public, they have demanded the necessary intervention of the board for the settlement of pending claims.
As per the financial statements made public by non-life insurance companies in the last fiscal year, claims of Rs.19.86 billion are yet to be paid. Compared to the previous FY, the unpaid claims have increased by 43 percent.
Claim settlement process of non-life Insurers:
According to the Insurer's Claim Payment Guideline 2076, the insured has to receive the claim payment within at least 36 days.  According to this guideline, the insured must submit an application to the Insurer for the loss incurred.Companies should immediately deploy surveyors based on the application given by the insured.  The surveyor should determine the liability of the insurer within 15 days, subject to the terms and conditions of the insurance policy, mentioning the amount that the insured can get.
Based on the surveyor's report, the company has to pay within 21 days.  If the insured is not satisfied with the surveyor's report, the re-survey may take some time.  But insurance companies have been taking months to pay claims even under normal circumstances.
If the companies do not pay the claim on time and are not satisfied with the assessment of the surveyor, there is a provision to lodge a complaint too the Insurance Board.  In this way, the insured has to wait for years to get the claim as Board also.
If it is found that the companies have not paid the claims as provision, the Board can take action against the company as per the Insurance Act. But so far the board has not taken any such action agains the companies which have not entertained the claims for long.But the companies have been blaming the insured that the payment of claims has been delayed due to non-receipt of documents on time.  Insurance companies want to pay as little as possible on the other hand insured want to get as much as possible.This also leads to delay in payment of claims.