Kathmandu: Life and non-life insurance companies have earned more than Rs.748 billion in last two decades. Insurance premiums have grown by an average of 37.41 percent over a two-decade period.
From the fiscal year 2058/59(2001/02) to 2077/78(2020/21), the insurance companies have earned Rs. 748.349 billion. Total premium income, which was below Rs.100 billion till FY 2075/76, has risen above Rs.100 billion afterwards. The insurance sector earned a total premium of Rs. 120.19 billion in FY 2076/77 while it was Rs. 152.65 billion in last FY 2077/78.
With the addition of 10 life insurance companies and 3 non-life insurance companies in the fiscal year 2074/75, the premium income of the insurance sector had increased from Rs.55 billion to Rs.77.88 billion. Insurance premium income increased by 17.10 percent in 2073/74 while had risen by 41.60 percent in 2074/75.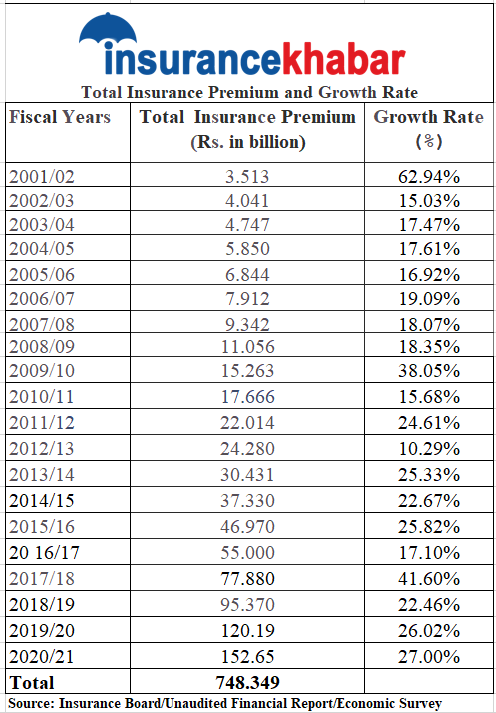 Over a period of two decades, the highest increase in premium income was 62.94 percent in FY 2058/59. In the first decade of the review period, i.e. from FY 2058/59 (2001/02)to 2067/68(2010/11), the insurance sector earned Rs.86.234 billion. Afterwards till 2077/78, insurance premium of Rs.662.11 billion has been collected.
In the last fiscal year, life insurance companies had earned a total premium of Rs. 120.95 billion. Similarly, the non-life insurance company earned Rs. 31.70 billion in premiums. The life insurance sector has contributed about 79 percent to the total premium income in the last fiscal year.