Kathmandu: Apart from the Indian-invested LIC Nepal Life Insurance Company, another Indian life insurance company has also proposed to come to Nepal five years ago.
According to a report published by Ministry of Foreign Affairs of the European country Netherlands in 2018, SBI Life Insurance had submitted a proposal to the Insurance Board in November 2016 with the objective of providing life insurance services in Nepal.
A proposal was submitted to set up a joint venture life insurance company with a paid-up capital of USD 50 million. The company was proposed to be a joint venture between France-based BNP Paribas Cardiff, Singapore Investment Fund Temasek Holdings and US private equity firm KKR and SBI Bank.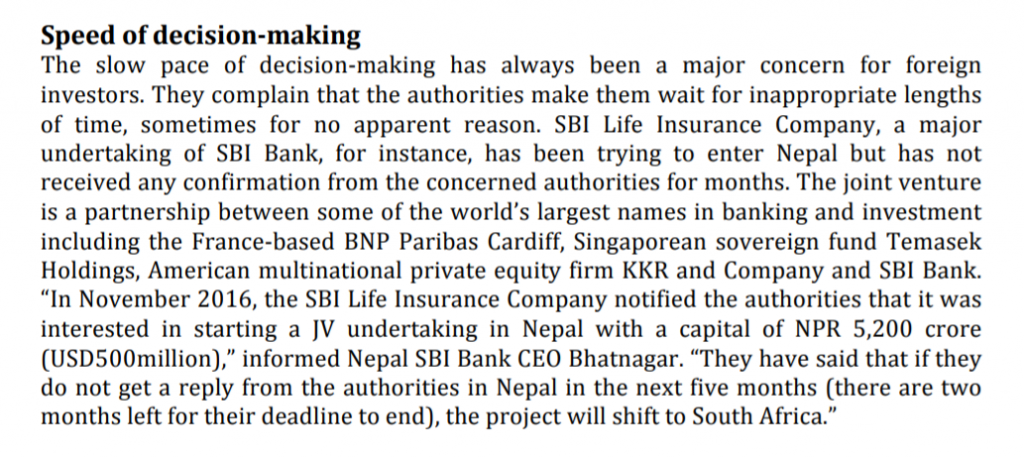 However, the investment plan was shelved after the proposer did not get response from the regulatory authority within the stipulated time frame. Contrary to that, the regulatory authority of insurance industry, Insurance Board, has clarified that the proposal received lately as the board had already distributed license to 10 new life insurance companies. Executive Director of the board, Raju Raman Paudel said, We had received their proposal lately, so nothing could be done at that time.
A report titled Nepal Market Study released by the Ministry of Foreign Affairs of the European country Netherlands in 2018 pointed out that delays in decision making at the policy level in Nepal are one of the major obstacle to foreign investment. The same report also cites delays in the introduction of SBI Life Insurance.