Kathmandu:Insurance companies with direct investment of around Rs. 70 billion and indirect investment of over Rs. 1.5 trillion by the people are in the poor list of the classification of Nepal Stock Exchange (NEPSE).
NEPSE has categorized the listed companies into four categories including A, B, G and Z. None of the insurance companies could go above G and Z. There are no insurance companies in A and B category.
Most of the insurance companies are lagging behind in the classification of NEPSE due to their inability to hold the AGM on time. The AGM has been delayed for more than a year due to delay in actuarial valuation.Companies are unable to distribute profits on time. The actuarial valuation is delayed due to lack of experienced manpower for actuarial valuation in Nepal.So, the companies have to totally rely on Indian actuaries.
The failure in getting the financial report prepared and holding AGM on time is supposed to be poor sign of corporate good governance.On the other hand, it also indicates about poor transparency of the insurers.Though there's a genuine reason behind delay in holding AGM on time.The issue is more concerned with the life insurers.
Of the 41 insurance companies currently in operation, 11 are life insurance companies (including Union Life), 18 are non-life insurance companies and one is reinsurance company listed on NEPSE.
Jyoti Life,Prabhu Life and Reliance Life Insurance Company, Ajod Insurance, General Insurance and Sanima General Insurance and Nepal Reinsurance Company are listed in 'G' category.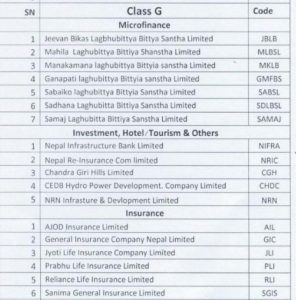 Life Insurance Company has listed Asian Life, Gunras Life, Life Insurance Corporation, National Life, Nepal Life, Prime Life and Surya Life Insurance in the 'Z' category.
Similarly, from non-life insurance companies, Everest Insurance, Himalayan Insurance, IME General Insurance, Lumbini General, Neco Insurance, Nepal Insurance, NLG Insurance, Prabhu Insurance, Premier Insurance, Prudential Insurance, Insurance Insurance, National Insurance, National Insurance, National Insurance  are listed in the 'Z' category.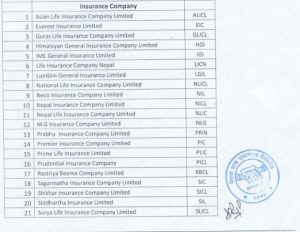 Regulation 11 of the Securities Listing Rules, 2075 provides for the classification of listed entities.  According to the provision, NEPSE has made the list public by classifying the second quarter.  Also, NEPSE has requested to submit the application with proof within 35 days if they are not satisfied with the classification of NEPSE.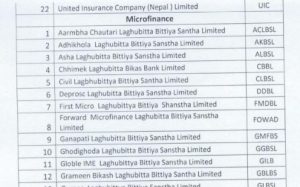 Insurance Companies Must Be Treated Differently:
Some insurers are of the opinion that the NEPSE should treat insurers in a different way since there's some technical aspects of the financial report approval. As per the standard practice, the AGM of a public limited company must be held within the six months of completion of a financial year.Still some insurers have to hold the AGM of FY 2075/76(2018-19).