Kathmandu: The share price of Surya Life Insurance in the secondary market sees a surge after the appointment of Mr. Vivek Jha, the former CEO of Nepal Life Insurance, as the member of BOD.
Jha has been appointed on 7th Jestha 2078 by the BOD of Surya Life Insurance.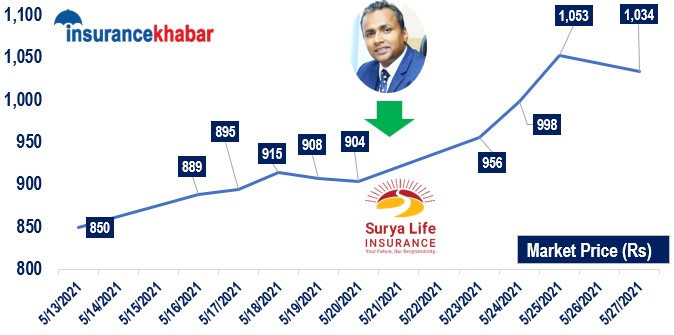 Jha joins as BOD of Surya Life after successfully completing two decades long tenure at Nepal Life Insurance. Nepal Life Insurance is the market leader in life insurance industry. Despite his outstanding performance the BOD of Nepal Life could not continue him due to the new corporate governance directives of Beema Samiti, the regulatory authority.
With the speciation of improved performance of the Surya Life insurance and better return to the shareholders, the buyers are attracted to SLIC.
This week the share price of SLIC has been gradually increasing. Secondary market price increased by 14 percent.Last weekend the stock price was Rupees 904 and this week it's Rupees 1034.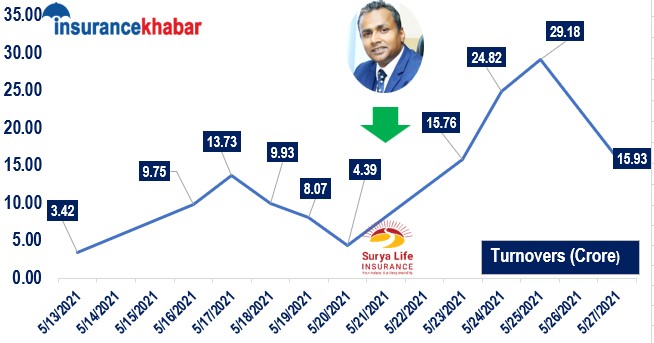 The trading volume and price both has seen positive impact. A day prior to his appointment the turnover was of Rupees 40 million. Immediately after his appointment, the total turnover was of Rupees 150 millions.
And the total trade price is gradually increasing from 150 millions to 240 to 290 millions. On Friday the total turnover bounced back to Rupees 150 million with minor decline of 1.8 per cent on trade price.